Original Fried pussycat rug with lights from National Lampoon Christmas Vacation. Kick off your fun, old-fashion family Christmas Vacation with Aunt Bethany's fried cat under your tree and have the hap-hap-happiest Christmas.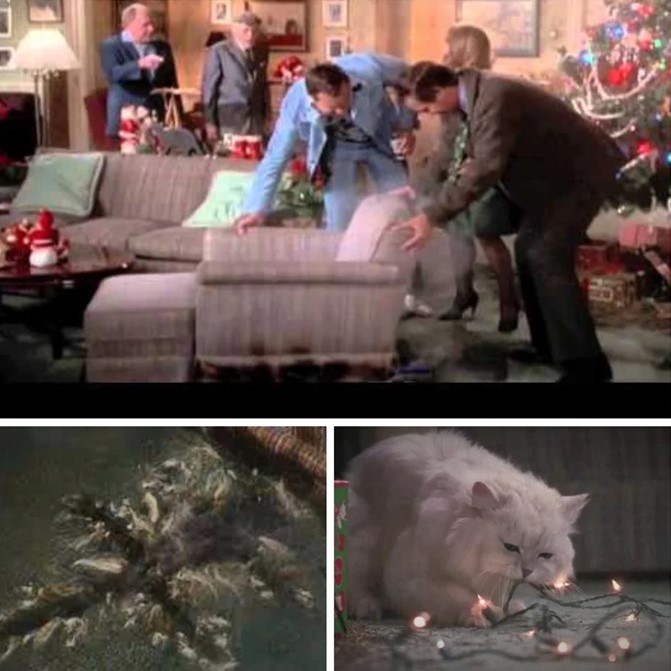 A laugh our loud loud funny gag gift for guys makes a ridiculously funny conversation piece, inspiring reenactments with classic National Lampoon quotes. Start a new family tradition - let the fried cat replace your Elf-on-a- Shelf and dedicate your house to the Griswold Family Christmas.
Hysterical hostess gift, holiday party decor or gift for coworker. A 5' set of lights is included (white the last). I'm sorry but the little lights won't be twinkling. They will give a nice steady glow as long as you remember to plug them in.
Hand cut size is approximately 16" x 24" may vary around an inch
Cut from very light-weight Ribbed floor mat 100% polyester fiber
White faux fur edging (like the cat) not boa feathers.
Scorched-looking dark fur on top may shed (hopefully not as much as a real cat but it is meant to look like a fried pussy cat, not puss-in-boots.
Outrageously funny cat that if it had nine lives, it just spent 'em all.
Authentic Fried Cat mat. Handmade by the family here at Resiy. Much to my surprise, sales have steadily increased throughout the the summer. We are anticipating an early sell out. Cost of materials has also increased astronomically and it is unlikely they will remain at this price point. Given that, I recommend securing your order before it sells out.
Last day to get in time for Christmas is Dec. 5th when You'll hear us yelling "hallelujah! Holy Shit. Where's the Tylenol?
Gag Gift Fried Cat Rug Christmas Vacation Decor, tree skirt, fan of cousin Eddie and the Griswolds.